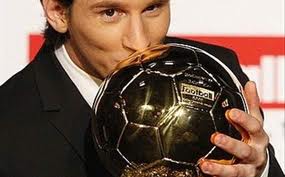 Leo Messi will be aiming to win his fifth Ballon d'Or on Monday evening in Zurich.
He would also hope to claim his first ever Puskas Award for his magnificent goal against Athletic Bilbao in the Copa del Rey final.
Football fans across the world are not expecting any surprises as to who leads on the pitch in the past
footballing year.
With Leo Messi and Barcelona sweeping all titles before them in 2015, making the final three seems to be enough achievement for Cristiano Ronaldo.
He was Barcelona's leading marksman in the league with 43 goals, he also fired his side to yet another title and also top-scored in their victorious UEFA Champions League campaign, contributing ten goals and six assists.
One of the highlights of another hugely productive season came in the Copa del Rey final win over Athletic Bilbao, with Messi dancing his way past several opponents on a long, mazy run before conjuring up a clinical finish inside the box.
The elusive forward also played a decisive part in Argentina's run to the final of the Copa America Chile 2015, serving up three assists, the joint-highest tally in the competition along with Chile's Jorge Valdivia.
After winning the third FIFA Ballon d'Or of his career at the start of 2015, Cristiano Ronaldo continued to perform at his very best, racking up the goals to end the league season as its highest scorer with 48 in all, his biggest haul in Spain to date.
Some have argued that if the precedent of personal over collective glory is to be repeated, it is Ronaldo who is deserving of a fourth Ballon d'Or to match Messi's record collection come Monday evening.
Unlike Messi who had in-form Suarez and Neymar to play with, the former Manchester United man could not rely on the injury prone and out of form Gareth Bale and Karim Benzema to have his back on a bad day, yet he still scored more goals in fewer games (54 in 52) than either Messi (48 in 53) or Neymar (41 in 53).
He very nearly ended the UEFA Champions League season as its leading marksmen as well, tying with Lionel Messi on ten goals but serving up fewer assists.
Cristiano nevertheless etched his name in the Real Madrid history books by becoming the club's leading all-time scorer, eclipsing fellow Blanco legends Alfredo Di Stefano and Raul.
The Portuguese also enjoyed a productive year on the international front, skippering A Seleçao das Quinas to direct qualification for UEFA EURO 2016, a relief for him and his team-mates following three consecutive appearances in EURO and World Cup play-offs.
Neymar makes the final slot in the top three having had a great year himself and playing a major role in Barcelona's highly succssful season.
Brazilian was his side's second-highest scorer in their league, Copa del Rey and UEFA Champions League treble-winning campaign, contributing 39 goals in 51 matches.
The world's best football players and coaches will be recognised on 11 January 2016 at the annual FIFA Ballon d'Or Gala.
The three nominees for the FIFA Ballon d'Or were determined after a voting process open to the captains and head coaches from the men's national teams of 207 FIFA member associations, as well as international media representatives.
This process was replicated to select the three final FIFA Women's World Player of the Year contenders with the help of the women's national team captains and coaches and representatives from the media, as well as for the FIFA World Coach of Year for Men's Football and Women's Football.
Meanwhile, the prestigious FIFA Puskás Award, which determines the best goal scored between 27 September 2014 and 23 September 2015, is exclusively based on votes by the public.
The three final nominees were chosen by users of FIFA.com and francefootball.fr from an initial list of ten candidates.